Eid al-Adha Day Menu
---
Network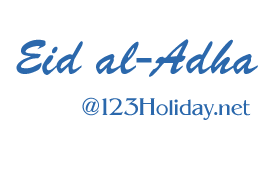 Eid al-Adha Recipes
Biryani
500 gms Basmati Rice.
1kg Mutton (cut into small pieces).
2 tsp. Garam Masala.
6 Red chilies.
7 Cashewnuts.
Onions.(A handful, sliced fine and fried till crisp)
5 Lavang (Cloves)
2 Dalchini (Cinnamon Sticks)
2 pieces Elaichi.(cardamom)
3 Green chilies.
6 Kothmir, (chopped Fresh coriander)
1 small bunch Pudina chopped.
Ginger Garlic paste.
3 tsp. Saffron. (dissolved in ¾ cup milk)
Curd beaten 1 cup.
Juice of 2 Limes. 4 boiled eggs. Ghee /Oil 5 tbsp.
Salt to taste.
Directions:
Grind the chilies and Cashewnuts into a fine paste. Mix the mutton pieces with the ginger-garlic paste and beaten curd and Keep aside. Heat four tablespoons ghee or oil and fry the chili paste. To this add the mutton, ¼ of the fried onion, 1tsp garam masala and salt to taste. When the ghee separates from the mixture, add one and a half cups warm water and pressure cook till tender. Take a wide mouthed vessel, fry the whole spices in 1 tbsp. ghee/oil. Add the rice and fry a little, add green chilies and salt to taste and enough water for the rice to cook. When the rice is cooked, spread it on a plate and remove the spices (sabut masala). Make a mixture* of the chopped Kothmir, Pudina, garam masala and fried onion and keep aside. Take another wide mouthed vessel (a thick bottomed one) and line it with ghee, spread a layer of rice in it and cover it with half the mutton. Sprinkle half of the Pudina mixture* and juice of a lime. Put a layer of rice followed by a mutton layer and finish with a final layer of rice. Sprinkle the rice with saffron milk and some ghee. Cover tightly and cook for twenty minutes over slow fire. Serve hot.
---
Mutton Korma
½ kg Boneless mutton.
½ tbsp Jeera.
Onions.(Finely chopped 1 cup)
Poppy seed paste. (½ cup)
Coconut paste. (½ cup)
1 tbsp Ginger paste.
1 tbsp Garlic paste.
Coriander powder 1 tbsp.
Turmeric powder ½ tsp.
Red chili powder ½ tsp.
Bay leaves 2 nos.
Cloves 6-8 nos.
Green elaichi 6-8 nos.
Cinnamon sticks A few.
Nutmeg powder A little.
Oil 4 tbsp.
Salt to taste.
Directions:
Roast (dry) the cloves, elaichi, nutmeg powder, jeera and cinnamon sticks and then grind to a fine paste. Heat some oil in a saucepan, add bay leaves and chopped onions and saute. When the onion browns add the ginger and garlic paste. Put in the boneless mutton and stir, mix in the ground masala, turmeric and red chili powder. Pour some water, sprinkle salt to taste and boil till the mutton is tender. Finally add in the poppy seeds paste along with the coconut paste and roasted coriander powder. Boil for another 10 minutes. Serve hot, garnished with coconut paste.
---
Kofta
For the Gravy:
3 onions finely chopped.
3 tomatoes.
2 tsp chili powder.
2 ½ tsp coriander powder.
¼ tsp turmeric powder.
1 tsp ginger garlic paste.
1 tsp cummin paste.
1 tbsp finely chopped coriander leaves.
5- tbsp oil.
3 cloves.
2 cardamoms.
2 Bay leaves.
4-5 green chilies finely chopped.

For the Koftas:
½ kg mutton minced.
1 egg.
3 tbsp finely chopped coriander leaves.
½ tsp cummin seeds.
½ tsp red chili powder.
½ tsp coriander powder.
Salt to taste.
Directions:
To make koftas
After washing the mince, squeeze out the water and mix it with all the other ingredients for koftas, make medium sized balls of this mixture and deep-fry them. Keep aside

For the gravy
Fry the chopped green chilies and onion along with the cummin seeds, bay leaves and the ginger garlic paste until golden brown. To this add the ground tomatoes, cardamom, cloves, salt and other ground spices, fry on a low flame. Put the koftas in the gravy and cook till the koftas leave water and add water only if required. Serve hot garnished with coriander leaves.







Search the web: